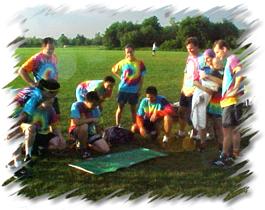 Ultimate Coaching Kits Testimonials
Paparazzi
We used an Ultimate Coaching Kit every game last season and our team Paparazzi won the league championship. It was no coincidence!

Edmonton, Alberta.
Kyle Kasawski -- Edmonton Ultimate Association
I received one of those fantastic Ultimate Coaching Kits last year and now I think every captain in the Edmonton Ultimate Summer league should have one.

Edmonton, Alberta.
Leagues Using Ultimate Coaching Kits
Every team in the Edmonton and Halifax Ultimate Leagues receives an Ultimate Coaching Kit with registration.
Teams Using Ultimate Coaching Kits
The Fabulous Flying Flamingoes -- Ottawa, Ontario
Bovine Intervention -- Madison, NJ (Drew University's Women's Team)
Rainbow Trouts -- Ottawa, Ontario
Who's Your Daddy -- Ottawa, Ontario
Hawaiian Foreplay -- Edmonton, Alberta
Pick One -- Ottawa, Ontario
Canmore Pickup League -- Canmore, Alberta
Drastic Plastic -- Ottawa, Ontario
Capitol Punishment -- Ottawa, Ontario
7-11 -- Ottawa, Ontario
Bullets -- Ottawa, Ontario
I Want the Pogne -- Ottawa, Ontario